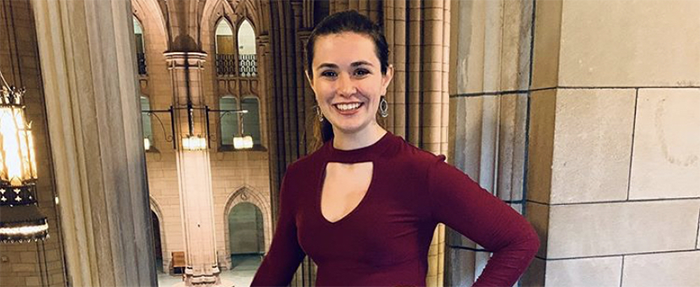 Before the COVID-19 pandemic limited in-person interactions, Alexa Spaventa found herself at Westinghouse High School several times a month. Some days, she came with her Seminar in Composition Service Learning course, where they would help students write college scholarship essays.
Other days, she was there for the DataJam Mentor program, where Pitt students work with high school participants on skills like data analysis and visualization to enter the DataJam Competition. It was almost like her presence was expected.
"There was one girl who was doing both, the DataJam and the scholarship [essay program], and she recognized me every time I came there. She was like, 'What are you here for this time?'"
Community engagement has been just one component of Spaventa's School of Computing and Information experience. A sophomore computer science and digital narrative and interactive design (DNID) dual major — Spaventa has immersed herself in on- and off-campus communities. Whether through coursework, extracurriculars, or something else, she's met some of her closest friends through SCI, and has started preparing for an exciting career.
In pursuit of her interest in service learning, Spaventa signed up for last year's SCI Alternative Spring Break trip to Quito, Ecuador. Though the trip was canceled because of the pandemic, Spaventa appreciates the opportunity to have spent the few months leading up to the trip making friends and learning how to engage in purposeful service.
"There was this whole series on basically how to do community service in a way that's actually helpful instead of just showing up there and saying, 'Hey, we're going to build you a computer lab in a week and leave, not give you the tools to actually be able to maintain it,'" Spaventa says. "I'm still glad I got to go through all the programming."
Her other academic involvements include a Teaching Assistant position this semester for Big Ideas in Computing and Information, where she helps teaching assistant professor Arjun Chandrasekhar's students in a Python skills lab. This experience has shown her she potentially wants to pursue a masters and PhD in computer science and continue working in an educational capacity.
But in the meantime, she'll embark on an internship with McKesson, a pharmaceutical company based in Texas, in summer 2021. After plenty of technical interviews for a variety of companies, Spaventa thanks the Computer Science Club for helping her prepare for her first internship experience. Through the club, she connected with her student mentor, who helped her craft a resumé and sent her information for networking events.
She says the community of CS students at Pitt is very supportive, as classmates always want to help each other out. And regardless of the particular channel through which Spaventa connects with other computer scientists, she's grateful for the opportunity to do so at Pitt.
"I really like talking about it and teaching other people about programming," she says. "I genuinely enjoy my office hours and helping people out and getting to debug their code. It's fun problem-solving. I like seeing people be passionate about it, too, because it's a really fun field."