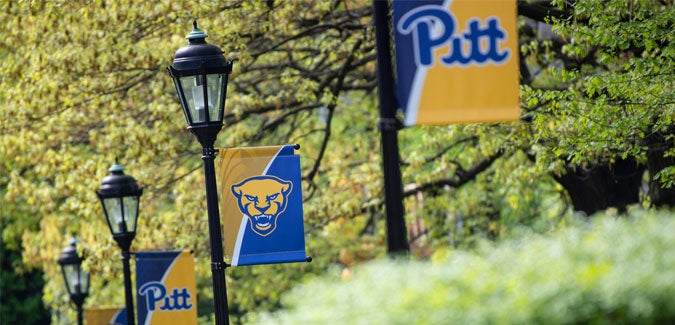 For the most up-to-date information regarding access to campus and SCI's COVID-19 response, visit our COVID-19 Information page or visit the University's Coronavirus website.
The School of Computing and Information is one of 16 schools and colleges and one of five freshman-entry schools at the Pittsburgh campus. Pitt SCI students work with classmates, faculty and staff of all different backgrounds and disciplines at the top public university in the Northeast. With a pattern of hard work and excellence, students at SCI bring about academic and technological progress to the city of Pittsburgh and beyond.
Action on Campus
The Pittsburgh campus hosts plenty of ways for students to grow and connect with others both in and outside academic settings. It can all start in an on-campus residence, where you can live with more than 6,000 other students, but housing doesn't limit the on-campus experience.
Students quickly learn about the resources available to them, such as campus recreation facilities and extracurricular activities. You can also visit the campus Career Center in the William Pitt Union to meet with a counselor and discuss internship opportunities.
Right across the street from the WPU is Student Health Services and the University Counseling Center, for when students find themselves in need of help.
Oakland: Pittsburgh's Academic Center
The Pittsburgh campus sits in the heart of Oakland, a confluence of commerce, culture and academia. Professionals of many kinds come to Oakland for the University of Pittsburgh Medical Center and its four teaching hospitals on Pitt's campus. This puts Pitt students right next to awesome opportunities, as UPMC has long been a top employer for not only Pitt grads, but for Pennsylvania and Pittsburgh residents as well.
On the east side of Oakland, Pitt students can find the main Carnegie Library of Pittsburgh, which has space for students to study and countless resources for them to utilize. And after a long day of studying, students can enjoy some nice weather and community on the green space at Schenley Plaza and nearby Schenley Park.
The best part about Oakland? It's close to several other city neighborhoods. This brings in exciting foot traffic and allows Oakland residents to easily access many other parts of the city.
Steering the Steel City
There's never a shortage of things to do on campus or near Oakland, but anyone craving a new adventure has 89 other Pittsburgh neighborhoods to choose from.
Each neighborhood boasts its own history and culture, filled with interesting things to see and inspiring voices of the people who live there. The dedication of the steelworkers and scientists of the 19th and 20th centuries shaped the Steel City into the tech and business hub that it is today. Many companies have set up a base here, including a Google site in Bakery Square and the Duolingo headquarters in East Liberty.
All of these opportunities rest at the fingertips of a Pitt student. With a Pitt ID, students can explore the rest of the city and Allegheny County with a free ride on any Port Authority bus. Your Pitt ID also gets you free entry into local museums such as the Andy Warhol Museum and the Mattress Factory in the North Shore and a free ride on the Duquesne Incline if you're looking to take in the stunning views of the city's rivers and bridges.