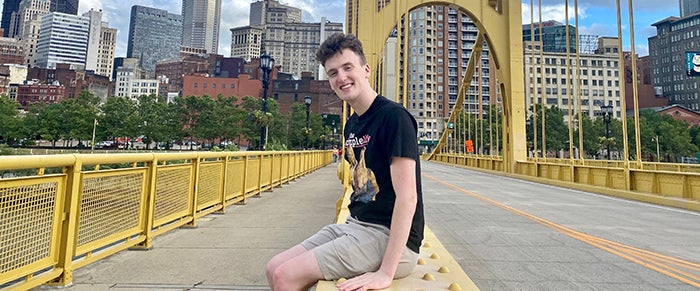 A brunch invitation may have helped set the course of Van Pierce's future career. The Information Science major was considering an internship with a bank when he attended the event, where he spoke with the Chief Information Officer of Argo AI.
The self-driving car company impressed Pierce—especially their corporate values, which include an emphasis on accessibility.
"As a person with a speech impediment, I felt a sense of inclusion that I have never really experienced from any company."      
For Pierce, whose main interests are cybersecurity and project management, his internship at Argo AI has been a tremendous career boost, and a powerful way to apply classroom lessons.
"The classes I have taken at SCI have 120 percent helped me as an intern," Pierce says.
Along with special opportunities like the brunch, and support from his advisor, SCI Week has aided Pierce's professional development. The annual event features talks on everything from resumes and video interviewing to careers in defense, and is capped off by a career fair.
Pierce is creating professional development opportunities through his work as vice president of OASIS (Official Association for Students in Information Science), a club he co-founded aimed at connecting students, faculty, alumni, and working I.S. professionals.
"There's a misconception that you have to know what you want to do by such and such a time, or else," says Pierce, who transferred into SCI and worried about missing some opportunities. "But everyone, whether it's faculty or staff or students, is there to help you."