January 17, 2023
What a way to help celebrate the School of Computing and Information (SCI)'s fifth anniversary: a record number of people attended the second of four SCI's Dean's Spotlight Series lectures, on Jan. 10. About 60 people walked through the doors of SCI's recently opened 130 North Bellefield Ave. location to attend "AR in the OR: An Interdisciplinary Journey Towards the Holographic Operation Room" while 33 people virtually attended the collaborative event. 
Presented by SCI's Department of Computer Science, the hour-long talk introduced emerging interdisciplinary collaborations between SCI and Pitt's School of Medicine. SCI associate professor Jacob Biehl and Ted Andrews, MD, chief resident, Department of Neurological Surgery, launched the evening, which explored the frontier of AR interaction in medicine. 
"As this talk is in a series of presentations to mark the fifth-year anniversary of our school, there is an underlying message here about how we, as a school, are growing in our ability to contribute to the broader good," said Biehl. "More explicitly, this talk, to me, is really about conducting and mentoring interdisciplinary research. It's an example of how SCI is building pathways and capacity to foster the next generation of interdisciplinary scholars and professionals."
In addition to Biehl and Andrews, a group of five students (Lucy Cheng, second-year student, School of Medicine; Thomas Downes, senior undergraduate computer science student; Nicolás Kass, third-year student, School of Medicine; Talha Khan third-year computer science PhD; Toby Zhu, fourth-year student, School of Medicine) focused on interdisciplinary activities within the new Alba Tull Center. The featured research projects exemplified the work that is possible when students, residents, and faculty from SCI and the Medical School bring their expertise to bear on collaborative projects, including LiDAR-powered operative guidance, holographic endoscopic streaming, and multi-user interfaces for operating rooms.
"The term 'interdisciplinary' is overloaded, but it means something very specific in science, medicine and engineering.  In fact, the National Academies engaged in a deliberate process to define it, and outline strategies for national engagement and funding. In their report, the authors constantly reinforce the importance of interdisciplinary research in the 21st century," said Biehl. "They also note that doing interdisciplinary research is hard, with lots of systemic barriers in the way. This leads us back to SCI — for in the wisdom of our founders, they acknowledged the tremendous value of interdisciplinary work. It's in our DNA.  And as we hit the fifth-year mark, it's important to reflect upon how well we are leaning into this vision for our school."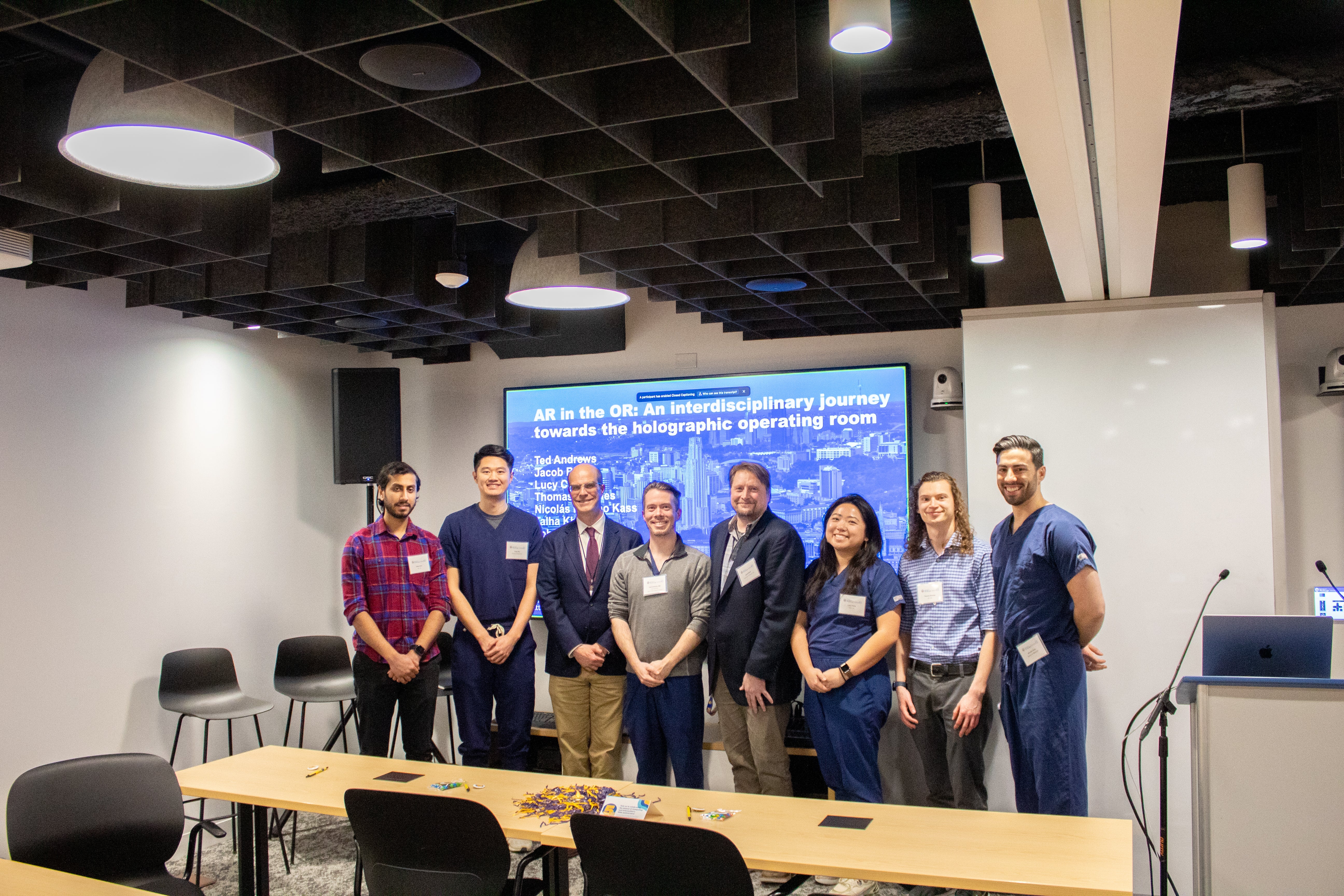 Pictured left to right: Talha Khan, Toby Zhu, Dean Bruce R. Childers, Ted Andrews, Jacob Biehl, Lucy Cheng, Thomas Downes, Nicolás Kass