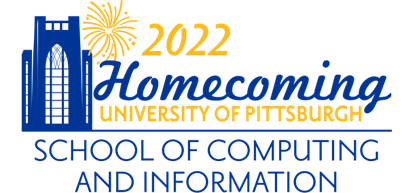 The SCI Alumni Board welcomes you back to campus for Homecoming '22! We have a lot to celebrate this year. New Dean. New Space. Fifth Anniversary all year long. 
Friday, October 7
The 5th Annual Toast to SCI  
130 Bellefield Ave., 5th Floor 
4PM-6PM 
Register here: https://pitt.events.alumniq.com/go/hc22/alumni 
Welcome Back Reception 
6 to 9 p.m. on the Cathedral lawn 
Young Alumni After Dark 
9:30 p.m. to 12 a.m. on the Cathedral lawn 
Fireworks and Laser Show 
Dusk at the Cathedral of Learning 
Saturday, October 8
Pregame Celebration for Pitt vs. Virginia Tech 
Three hours before kickoff at Heinz Field 
Be sure to visit homecoming.pitt.edu for the latest information and event schedule.