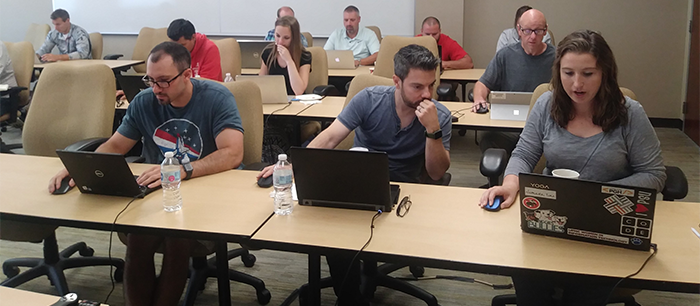 Asynchronous/synchronous education models became a defining cornerstone of life amid the coronavirus pandemic. But the Professional Institute at the School of Computing and Information had utilized the same framework for an entire year before asynchronous/synchronous slipped into the cultural lexicon.
Why? To cater to the working professional, whose job demands make it difficult to maintain a work-life balance while obtaining a graduate degree. When designing an answer to the cybersecurity skills gap, Leona Mitchell — director of the Institute and SCI professor of practice — wanted an educational model that suited the needs of the working professional.
"In the tech industry, it isn't so much about what graduate degree you have, but what skill you have," Mitchell says. "We knew we needed to build flexible, customizable, and quality offerings that helped people rapidly gain skills, at their pace, and without a huge financial investment."
The number of cybersecurity job openings currently exceeds 500,000, but universities across the United States graduate less than 400,000 computer scientists each year. The obvious way to meet this continuous demand is to educate the working professional.  Launched in 2019, the Professional Institute helps technical working professionals gain the skills needed to fill these cybersecurity roles and advance their careers.
The Institute works to promote a variety of programs, including a Master of Science in Information Science (MSIS) with an information security specialization, two graduate certificates — Cybersecurity, Policy, and Law, and Information and Network Security — and three pathways for micro-credentials: Cyber Essentials, Cyber Management, and Cyber Boot Camp.
Whichever program someone chooses, the Institute aims to empower working professionals to enter the cybersecurity workforce with a curriculum taught by both PITT faculty and industry professionals recognized for their cybersecurity expertise. In addition, the Institute formed a Workforce Advisory Council — which includes executives from companies like Eaton Corp., Allegheny County and Federated Investors — to stay aligned with and design offerings specific to today's workforce demands.
Mitchell says a skill gap lies in just about every technology discipline — such as software development, data analytics, and artificial intelligence. While each specialization would benefit from increased training in their respective discipline, all of them benefit from increased cybersecurity training.
"Fifty percent of all technology jobs out there today require some cybersecurity background," Mitchell says. "People may not necessarily want to change their career path, but having cybersecurity in their existing skills portfolio makes them more competitive in today's market."
Currently, the Professional Institute is focusing its efforts on increasing diversity in the cybersecurity industry. Men outnumber women in the field by 3 to 1, and other underrepresented groups consist of approximately 26% of the field. To help address these efforts, the Institute is working closely with RedChair PGH to provide scholarships to underrepresented groups. The first scholarship, Cybersecurity, Privacy, and Regulations, starts June 24.  
"Diversity creates a better workforce," Mitchell says. "Diverse thinking enables better problem-solving, which is ultimately what we need to meet today's cybersecurity challenges."