The School of Computing and Information community can soon expect a new space that reflects the school's vision and tremendous growth over the past three years. As SCI expands to the fifth floor of 130 N. Bellefield, right across the street from the Information Sciences Building, students, faculty, and staff will continue to collaborate through research and education to solve the most pressing societal problems in the post-pandemic world.
"Using a space to build our culture of collaboration and partnership is so important for the future of our school," SCI Interim Dean Bruce Childers says. "It brings energy to us. It brings new ideas."
Childers expects the floor to get quieter as people move through the space. Students, faculty, and staff will first encounter some communal areas — such as open workspaces, a kitchen, large collaboration spaces, and two conference rooms — that experiment with various furniture concepts. They'll also find technologies that explore new ways of collaborating in research and education through in-person and remote (virtual) presence.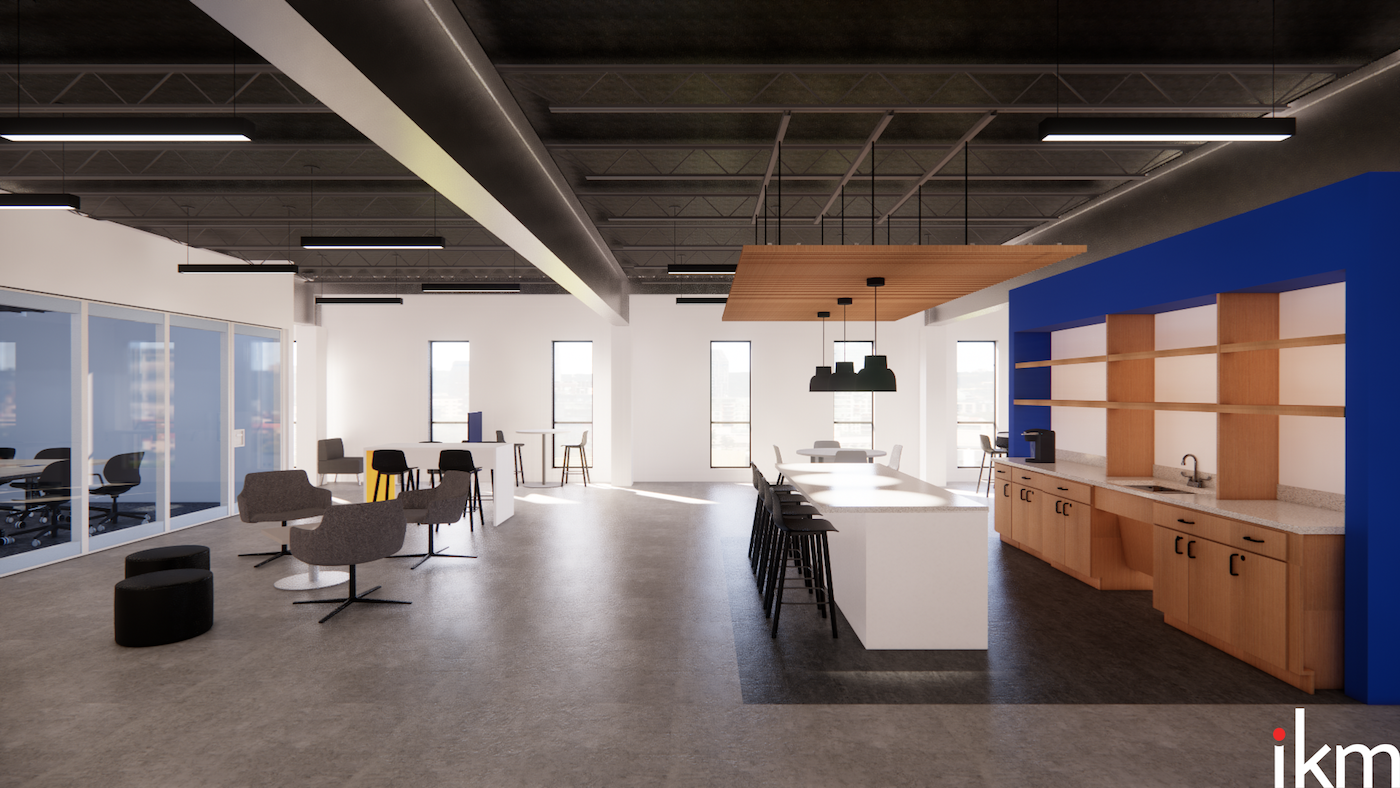 Renderings from IKM Architecture include a kitchen surrounded by open communal workspaces.
The renovated floor on N. Bellefield will contain a variety of meeting and office spaces, some assigned and some unassigned, that will use several different furniture concepts to accommodate workspace preferences. Some unassigned offices can also serve as conference rooms. All of the spaces will be well connected with technologies for collaboration. 
Childers says this kind of flexibility and openness will enhance the way members of the SCI community interact.
"Creating space that causes that coming and going, where you run into others — whether in person or virtually — you'll spark new innovations and new creativity will happen," Childers says.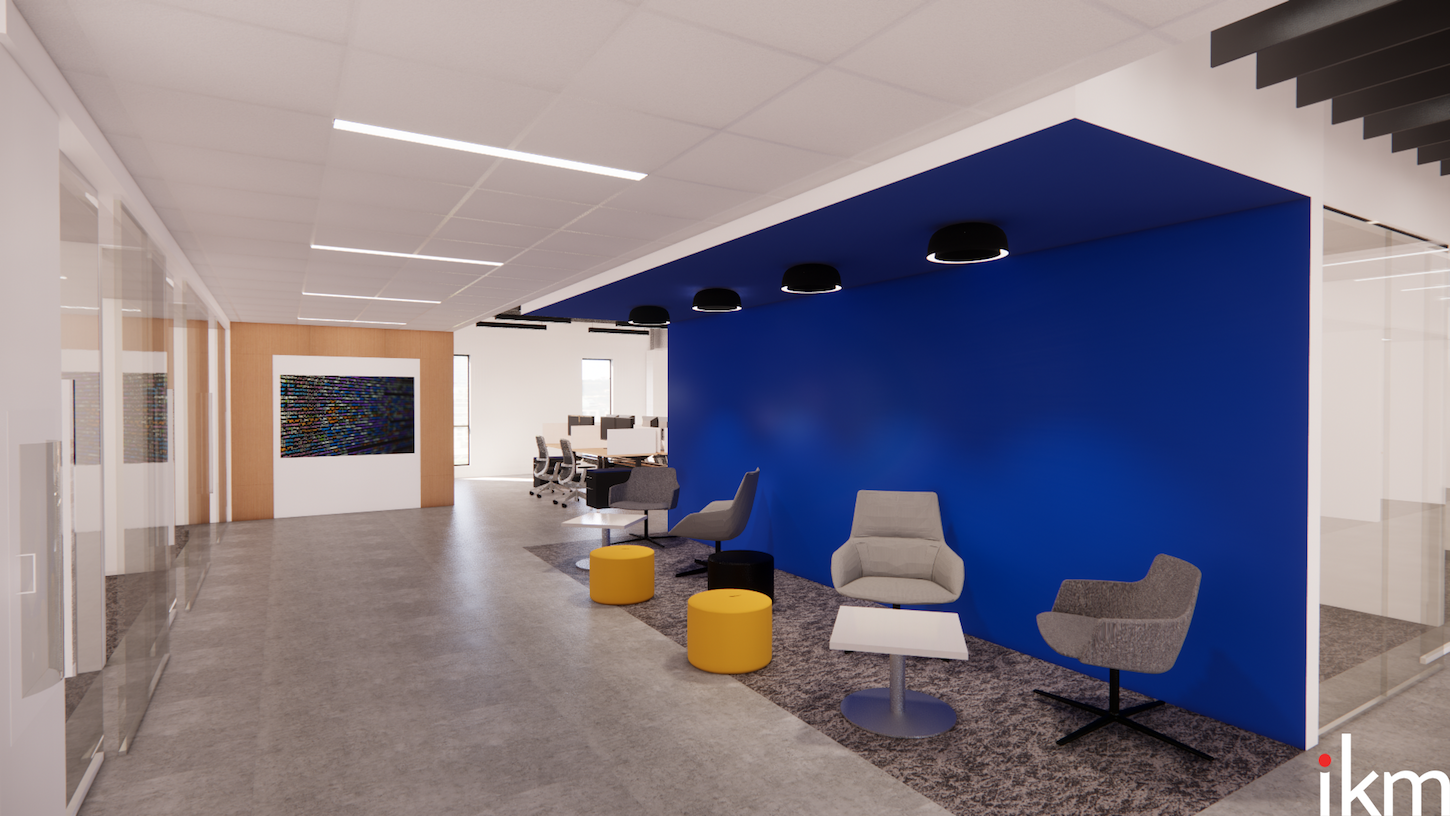 Areas like the lounge will experiment with various furniture concepts to accommodate different workspace preferences.
Sharon Bindas, SCI's senior director of business administration who is leading this renovation project, says ideas for increasing the School's presence on campus started 2017, when SCI took part in a feasibility study.
"Because we are growing, we are hiring new faculty and staff and are outgrowing our current space," Bindas says. She sees this opportunity as a positive reflection of the School's progress.
Bindas and Childers want the community to think about the space itself as a means for testing new ideas and instrumentation. These 10,000 square feet will serve as a pilot space so that the SCI community can continue to adapt, as members discover their preferences in using different technology, meeting spaces, and furniture concepts. Other technology planned for the space includes various Internet-of-Things devices, which will serve as a means to facilitate communication across SCI's other spaces — Sennott Square and the Information Science Building. 
This flexibility will also benefit students entering the building, as they will encounter the various workplace environments in which they may find themselves working after graduation. SCI hopes that its engagement with 130 N. Bellefield as a pilot space will inspire the rest of the University in planning post-pandemic work environments.
"We have a vision of utilizing this space as a testing space where faculty are encouraged to conduct collaborative research university-wide," Bindas says. "We want to be very creative in how we use 130 N. Bellefield to benefit faculty, students, and corporate partners."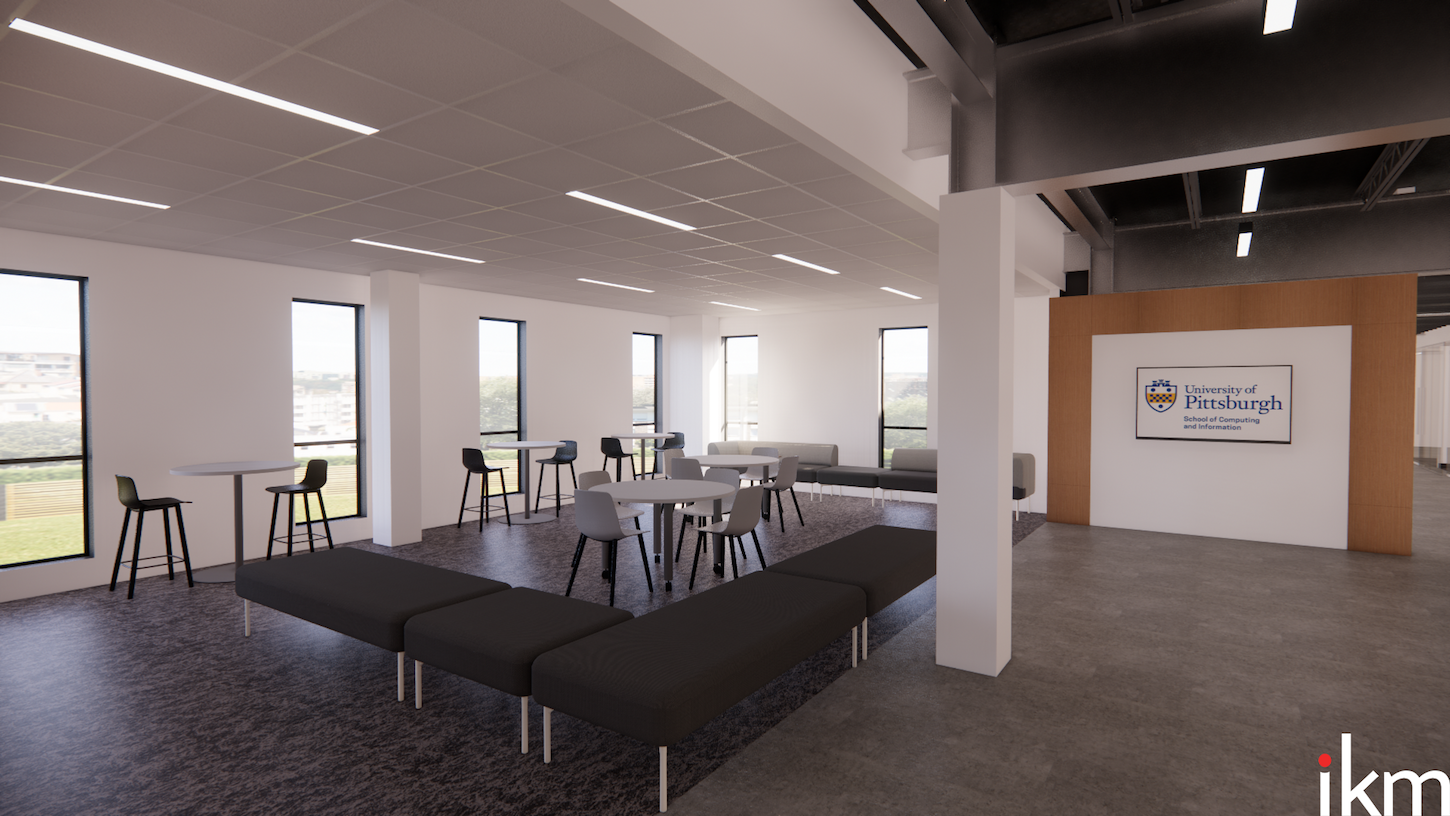 The floor will contain various Internet-of-Things devices to connect members of the SCI community in the School's two other buildings — the Information Science Building and Sennott Square.
The space will also reflect the greater demand for faculty research collaborations, both internal collaborations as well as interdisciplinary collaboration with faculty from the entire University community. Computing and information have become integral to other fields, and these other fields often bring their own innovation to computational technology, so Childers encourages SCI to be active partners in this interdisciplinarity.
Just as the fields of computing and information constantly evolve, the design of the new N. Bellefield space will allow for continuous updates and changes. This extends to the opportunity for faculty research and collaboration to change as the fields progress.
"To be there as partners, we need to have that collaborative spirit," Childers says. "This space, at least the way we're envisioning it, is this sort of vehicle by which to do that."