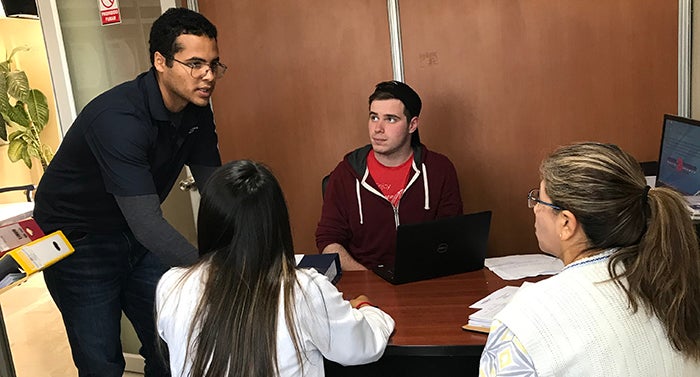 Incoming SCI students who want to hit the ground running in terms of outside-the-classroom opportunities have several avenues to choose. Alka Singh, SCI's Director of Experiential Learning, suggests signing up for iServe, one of several community engagement opportunities available to SCI undergraduates. This programming, along with Alternative Spring Break and other community engagement initiatives, allows students to apply what they learn in school to real-world problems with an opportunity for tangible results and exponential impact.
Singh says this began when SCI, then the School of Information Sciences, partnered with the Office of PittServes in 2015 after hearing of student interest in volunteering as well as a need in the community.
"It was an organic kind of desire that we were seeing from our prospective students in terms of wanting to use data and analytics and all things IT, tech, computing-related for betterment of society," Singh says.
The collaboration resulted in the iServe program, an opportunity to introduce students with these technology-based skill sets to local communities in Homewood, the Hill District, and many other Pittsburgh neighborhoods. Through iServe, student groups spend an entire semester immersed in a local organization. Students have launched all kinds of projects, such as an app for Goodwill of Southwestern Pennsylvania, which allowed employees to track their shift locations and times, and a series of tech classes to elderly community members through the Bloomfield-Garfield Corporation.
"I can't tell you how many times students have been blown away by the community partner being present saying, 'If not for you, this would never have gotten done,'" Singh says. "I think it's really special for students because they can tangibly see what they've changed for an organization."
This semester, iServe placed 11 students in five different projects — a 100% placement rate — with one group developing an app for the office of Rep. Jake Wheatley of the Hill District, which would allow him to quickly send updates and information to constituents.
Singh wants first-year students to know they can apply to the program without much experience, as SCI will match them with older classmates for a project. Since there's no credit involved, students can learn about client-consultant relationships and other aspects of their future field in a low-stakes environment.
SCI's other not-for-credit experiential learning opportunity, Alternative Spring Break, has also had to change course as a result of the pandemic. Instead of going to Quito, Ecuador, like students have in the past, Singh hopes students will travel domestically to serve other organizations in need of technological assistance in a post-COVID-19 environment. No matter what side of the Atlantic, this opportunity allows for "students to be pushed outside of their comfort zone while also keeping in mind their professional goals."
As students become more comfortable with their surroundings and routines as the school year progresses, Singh wants students of all ages to consider the countless benefits of community engagement through SCI.
"They're just transformative experiences that really expose them to situations and scenarios that I don't think they would organically get through classroom interactions or traditional group projects or even a straight work experience," Singh says. "This lends itself to having the community be such a centered voice in all of this work."