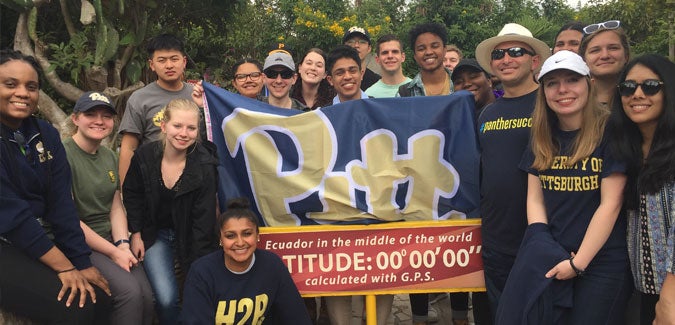 Each year, students in the School of Computing and Information embark on a 10-day Alternative Spring Break trip where they travel to another country to complete technical skills-based service-learning projects that benefit the local community. They are joined by a group of non-SCI students in collaboration with the Office of PittServes. Previous trips have been made to Ecuador, with other international and domestic locations being scouted for future spring breaks.  
Participation
To participate in alternative spring break, students must submit a formal application before applications are due, typically in October of the previous year. They will go through a thorough interview process and if selected, will need to submit a non-refundable deposit for the trip. All trip expenses are to be paid before January 1st. Funding may be available through SCI and/or Pitt depending on budgets. They will also participate in a series of trainings help prior to departure, most likely on Saturdays during the spring semester.
Expectations
Students are expected to represent the university in a dignified manner and respect the community they are engaging in. In order to prepare for the trip, students will attend 8-10 weeks of training sessions on topics such as power and privilege, asset-based community engagement, and the value of community engagement through direct service-learning projects.
While on the trip, students are expected to communicate with their staff chaperone if any issues arise immediately.
How to Apply
Applications are now open for the fall 2022 semester!
Trip Length
March 3rd to March 12th, 2023
Applications
Trip Application: https://pitt.co1.qualtrics.com/jfe/form/SV_0AFy5stFoMmZNe6
Financial Need Application: https://pitt.co1.qualtrics.com/jfe/form/SV_3dt2YCeS1jruXj0
Information Sessions
Information sessions are being held on 9/27, 10/3, 10/7, 10/11, 10/16, and 10/19. Register in advance here. 
Important Deadlines
Trip Application: must be completed no later than 10/21/2022. Applicants will be notified by email of acceptance into the program and service site assignment by 11/18/2022. Accepted applicants must accept/deny their placement no later than 11/30/2022. Applicants will be instructed to return a signed contract with non-refundable program cost to secure placement in the PittServes Alternative Spring Break Program.
Financial Need Application: must be completed no later than 10/21/2022
For More Information
Students should contact Emily Bennett, SCI's Manager of Experiential Learning.