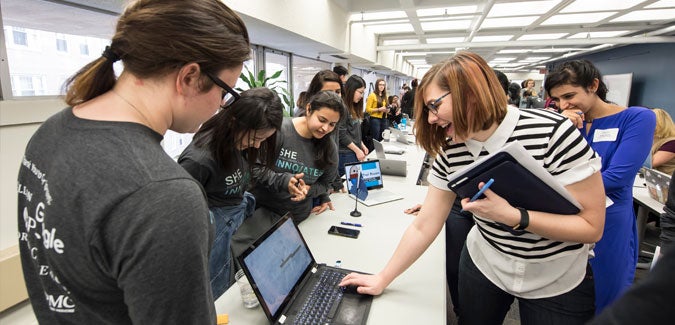 SCI programming allows students to go beyond their academic bubble and work to better the greater Pittsburgh area. By working with small teams of other students and faculty supervision, students communicate with members of other communities and find out how they can use their streamlined skillset to design a better planet.
iServe
In 2015, SCI joined with the Office of PittServes to launch iServe, a series of collaborative volunteer programs that operate in and around the Homewood neighborhood of Pittsburgh, just more than 10 minutes away from Oakland.
Small groups can come together and submit volunteer project proposals that utilize the skills they have learned from their coursework, for implementation during the fall or spring semester. This process not only allows students to connect with their neighbors but asks them to demonstrate their knowledge in real-world settings to produce tangible results.
Over the past five years, more than 100 students have come together to complete more than 20 projects in partnership with 25 local community partners.
Students interested in the program should contact Emily Bennett.
Alternative Spring Break
Each year, students in the School of Computing and Information embark on a 10-day Alternative Spring Break trip where they travel to another country to complete technical skills-based service-learning projects that benefit the local community. This experience allows students to put their education into practice. 
Our Project
Started through a partnership with Pitt's Office of PittServes and our community partner, United Planet, in 2017, nine SCI students traveled to Quito, Ecuador, where they taught basic skills such as Microsoft Word, Excel, and PowerPoint to middle school students, as well as brought the school's computer lab up to speed.  
The second year's cohort consisted of eight students who also traveled to Quito to help create a stable network of computers for an NGO-backed dialysis clinic by conducting security scans and updates on the computers. In addition, students developed a how-to manual on how to create a database for current and historical patient data, which will help the clinic make better treatment decisions and reference patient data faster. 
About Our Students
The students who participate in Alternative Spring Break have a desire to make a difference. They are hand-selected through an application and interview process and go through eight to 10 weeks of training sessions on topics such as power and privilege, asset-based community engagement, and the value of community engagement through direct service-learning projects.