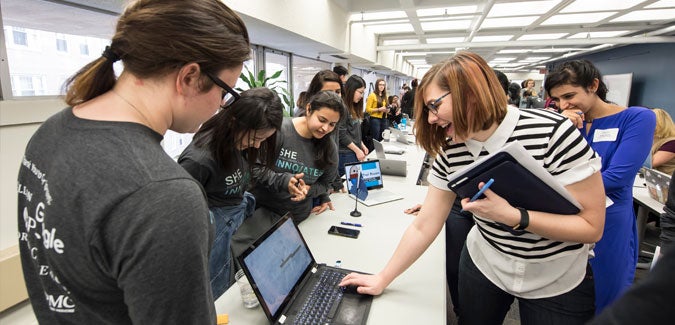 The iServe program is a partnership with the Office of PittServes that is offered every fall and spring exclusively to School of Computing and Information students. It's a great way for students to gain experience, to build confidence in their technical and project management skills, as well as make an impact in the local Pitt community.
Since 2015, over 100 students have participated in the program in a variety of non-profit settings. In small teams, they have been tasked with designing and building websites, creating databases, providing data analytics, SEO recommendations, creating and maintaining social media accounts, videography, and more.
Participation
To participate in the iServe program, students must submit a formal application during the application window, typically during the first month of classes in the fall and spring. In addition to submitting an application, they must be able to attend the virtual matching fair or else they will forfeit the opportunity to be selected by a community partner.
Expectations
Student teams are expected to meet weekly to bi-weekly to discuss the project and should ensure their community partner is updated on a regular basis. They must be realistic with the partner in setting project expectations, even if students are willing to volunteer after the semester ends.
A midpoint check-in will be conducted virtually for both students and community partners separately to ensure mutual satisfaction and to correct any issues before the semester concludes.
In addition to the midpoint check-in, student teams are expected to attend the iServe report out and celebration event held in-person at the end of the semester. It's an opportunity for the student groups to present on their progress, as well as chance for both the teams and partners to celebrate the great work that was accomplished.
How to Apply
Applications are now open for the fall 2022 semester!
Program Length 
September 30th to December 9th, 2022
Partner Projects
Check out the projects submitted by community partners for the Fall 2022 program here. 
Applications
Complete this application form by midnight on Thursday, September 22nd
Information Session
September 19th from 12:00-12:45 p.m. via Zoom. Please RSVP here.
Matching Fair
September 23rd between 12:00-1:30 p.m. via Zoom. Link will be provided upon completion of the application.
For More Information
Students should contact Emily Bennett, SCI's Manager of Experiential Learning.
Community organizations interested in becoming an iServe partner should contact Kristy Giandomenico-Meaner in the Office of PittServes.