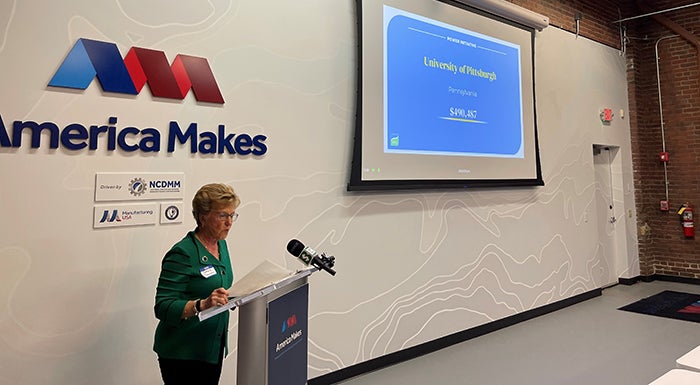 On Thursday, March 17, the Appalachian Regional Commission (ARC) awarded the University of Pittsburgh School of Computing and Information (SCI) nearly $500K for their Applied Data Driven Methods (ADDM) graduate certificate.
The ADDM certificate, launched in 2021, offers students the opportunity to expand their professional skill sets in the fields of data analysis and data-based decision making through a four course sequence that can be completed in one year of part-time study. 
"A unique attribute of the certificate is its focus on training individuals who have no experience or background in the computing, information, or data science fields," said Adam Lee, SCI Associate Dean for Academic Programs and Professor. "This flexibility makes the certificate particularly well suited to support regional workforce development by providing new and diverse candidates to help fill the many information technology related job openings that exist in Southwestern Pennsylvania." 
Recipients of ARC's POWER grants are working to bolster, revitalize and diversify the economies of 211 counties across the coal-impacted Appalachian region. Over the next three years, Pitt's grant will provide tuition support for 54 residents of both Fayette and Westmoreland counties to pursue the ADDM certificate.
"We will also be working closely with our corporate partners and other regional employers to develop programs supporting these students' career readiness and professional development," said SCI Teaching Assistant Professor Joseph Yurko. "These activities will include providing real world problems for class projects as well as conducting resume reviews and mock interviews."
Leading regional employers such as Argo AI, PPG, the National Energy Technology Laboratory (NETL), Naval Nuclear Laboratory (NNL) and others have agreed to participate in these student development activities.  
"The ADDM certificate enables us to cast a wide net in terms of the background and life experiences of individuals who can be trained through this course of study." said Bruce Childers, Interim Dean of SCI.  "It is an important component of our commitment to supporting the development of a well-trained and diverse workforce for our region. We are grateful to ARC and our many partners for the confidence that has been placed in us through this investment."
The ADDM program's funding is part of a 21 million dollar package by the ARC, with funds going to 21 different recipients across the Appalachian region. To find out more about the POWER Grants, visit the ARC website.