Artificial Intelligence, Internet of Things (Assistant Professor, Department of Computer Science) Position #02001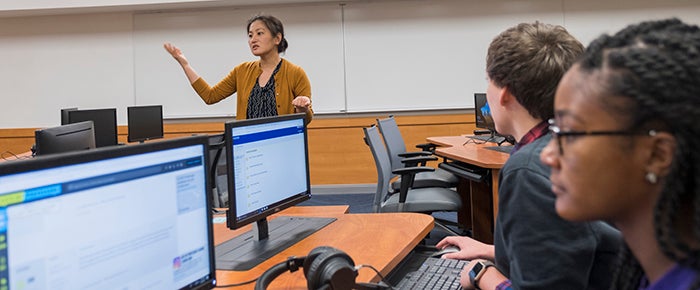 About the Position
The Department of Computer Science (CS) is one of the oldest CS Departments in the USA and currently has 22 tenure-track faculty members. CS has one tenure-stream assistant professor position available for candidates with research interests related to Artificial Intelligence (AI) or Internet of Things (IoT), both broadly defined.
Artificial Intelligence (AI) is a dynamic, ever-expanding field developing new efficient solutions for a broad range of important problems related to and impacting all aspects of our lives. We seek faculty candidates in all areas of AI with special emphasis on emerging areas of Artificial Intelligence and Machine Learning and the theoretical foundations of AI/ML. Faculty candidates should have expertise in traditional areas of AI that complement the current strength of the department in Natural Language Processing, Machine Learning and Vision, such as knowledge representation, planning, or multi-agent systems.
Internet of Things (IoT) is a broad field that takes advantage of smart devices to streamline operations, optimize productivity, enable efficiencies, and increase security, among other tasks. It is utilized in many different domains, such as Cyber-Physical Systems (CPS), Smart Homes, Smart Cities, Smart Health, Advanced Manufacturing, Instrumenting Spaces for Education, Sustainability, etc.  We are looking for a candidate who will be successful in research related to IoT, including, but not limited to:
IoT software, system, and data architectures
secure, efficient, and reliable IoT data collection
security for IoT, including processing, transmission, and analyses of data (locally and on the Cloud)
extracting information and knowledge
applying models to IoT systems
Minimum required qualifications
Candidates should hold a PhD in computer science or some closely related area
Candidates should hold the PhD degree by September 2021
Preferred qualifications
A PhD in computer science or some closely related area, and the initiation of a successful research program in AI or IoT.
Application Process
Individuals interested in these openings may apply through the application portal. A completed application includes a cover letter, curriculum vitae, research statement, teaching statement, a statement of commitment to creating a diverse and inclusive community, and the names and contact information for at least three recommenders at the assistant professor level.
Application review will begin immediately and applications will be accepted until positions are filled. We anticipate that interviews will begin in February 2021. For best consideration, please apply by January 4, 2021. The anticipated start date is September 1, 2021. Questions about this position and/or application status should be emailed to sci-cs-recruit@pitt.edu and general requests should be emailed to sci-recruit@pitt.edu.
The University of Pittsburgh is an Affirmative Action/Equal Opportunity Employer and values equality of opportunity, human dignity and diversity, EOE, including disability/vets.