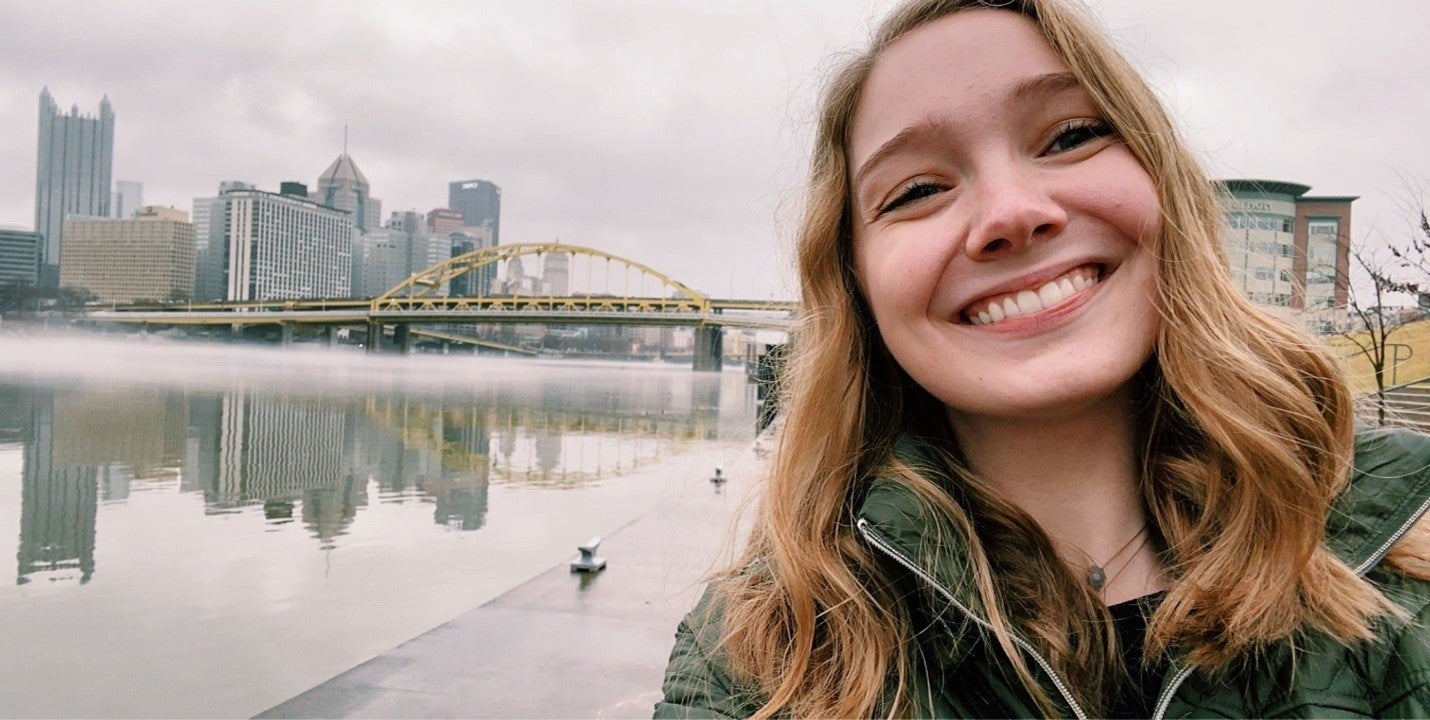 Olivia Larson has seen several corners of Pitt's operating world — from an undecided first-year at the Pittsburgh campus, to an education major at Pitt Greensburg, and now a graduate student in the School of Computing and Information. She knows the University pretty well.
"I always go with Pitt things because it's what I know, and I know it's going to be high quality," Larson says. "I'm going to have professors that know what they're talking about and actually care about what I'm experiencing."
As she wraps up her first semester in the Master of Library and Information Science program, Larson's very happy with her coursework and the guidance she's received from professors and advisers. She knew she made the right decision, and that was without knowing of the Pitt2Pitt scholarship, which assists in a Pitt senior or recent alumni's pursuit of a graduate or professional degree with up to $5,000 in scholarships. Had she been aware of the program when applying, Larson says the scholarship would have further solidified her decision to stay at Pitt.
Now working on her school librarian certificate, Larson aims to fuse her education background with the information science skillset she's building. She notes some overlap in her previous coursework and what she's learned so far in MLIS, but she's also experienced an adjustment to the new subject matter.
"School librarians, I've learned, are like tier-two IT departments," Larson says. "I'm definitely learning new things, and it's been a very smooth transition, but it was definitely a shift at first."
But she imagines the shift would have been harder had she not stayed at Pitt. By continuing her education at a school she already knew so well, she's experienced a comfortable level of growth and progression without tackling something completely new.
"The way it's set up, it makes sense — it builds upon what you are already experiencing," Larson says. "It's nice to just have it continue smoothly and not have to worry too much about jumpstarting something brand new."
SCI offers Pitt2Pitt scholarships within the Master of Science of Information Science, Telecommunications and Computer Science programs in addition to the MLIS program. Students interested in applying for the Pitt2Pitt program should contact sciadmit@pitt.edu. Scholarship applications for students starting in Spring 2021 are due December 10. Learn more about Pitt2Pitt.